't Artieql ier es gesjchreevn in 't Eevrgems, en me zoen gaern en da't azue blyft.
't Gebruikte djalekt en es nie de moerstoale van de sjchryvr van't artieql. Mostje gy et beder klabn, wurje uitgenuedigd veur et te vrbedern.
---
Eevrgem es een pleqqe en gemiênte în de Belgiese provînse Uest-Vloandern. 't Weuhn miêr of 32000 meñsn în de gemiênte.
De gemiênte
Edit
't Lîhn sîns de fuzie mee Slein' en Ertfeld' în 1977 neehn dûrpn în Eevrgem: Belzele, Duernzele, Ertfelde, Eevrgem, Kerkbrûhe-Lahrbrûhe, Kluizn, Rieme, Sleine en Wîbbegem. Kluizn es offesjeel uek een diêlgemiênte van Eevrgem, sjchoondat die gemiênte al în 1965 mee Ertfelde woa vesmoltn. De tabell' ieroñdr tuegt de zjuuste vediêlîhe van de dûrpn euvr de diêlgemiêntn te goarn mee ûldr gruedde en oantal beweunrs.
(*) mee Kluizen drby.
Bronne:Gemeente Eevrgem
De gemiênte Eevrgem leit nevest de noaste diêlgemiêntn: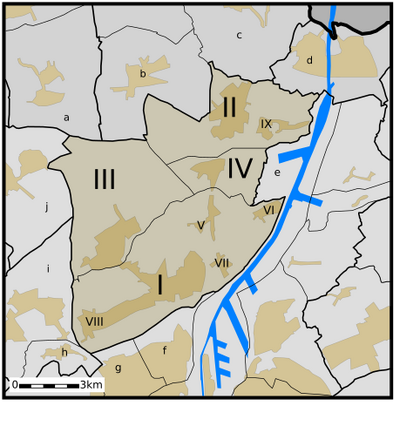 Puubliek vervoer
Edit
't Ryhn toamlik veel buuzn en trams ûp Eevrgem. De lyst' ieroñdr geevd een euvrzîcht.
Tram 1 Geñt Flanders Expo - Eevrgem (ryd alliên deur Eevrgem Señtr)
Buus 53 Geñt Zuid/Sînt-Pietrs - Bassevelde (Eevrgem, Wîbbegem, Kluizn, Ertfelde)
Buus 54 Melle/Boaygem - Geñt Zuid - Eevrgem Duernzele (Eevrgem, Kerkbrûhe, Duernzele)
Buus 55 Geñt Sînt-Pietrs - Zelzoade (Kerkbrûhe, Wîbbegem, Kluizn, Ertfelde, Rieme)
Buus 55s Geñt Sînt-Pietrs - Zelzoade (direkt) (Rieme)
Buus 57 Geñt Sînt-Pietrs - Woadrvliet (Eevrgem, Sleine)
Buus 65 Geñt Gruetañdlsmart - Ûrsl (1 alte by Belzele)
Buus 67 Geñt Gruetañdlsmart - Eeqlue (1 alte by Belzele)
Buus 69 Geñt Zuid - Woarsjchuet (Belzele, alliên bînst de spîts)
Buus 97 Eeqlue - Ertfelde - Zelzoade (Ertfelde)
Buus 50 Belbuus Eevrgem (rydt ûp guel de gemiênte)
Den trein van Geñt noar Eeqlue ee twiê stoases în Eevrgem. De stoase van Sleine stoat ter al van 1911, moar es efkes toe geweest tûsn 1986 en 1988. Sîns junie 2007 es ter, achtr 40 joar, uek weer een stoas' în 't Señtr van Eevrgem.
Zûstrsteedn
Edit
Eevrgem ee ne steednband mee 't Eekwadoroanse Guaranda en 't Duitse Großenkneten.
Gesjchiedenîsse
Edit
De noam "Eevrgem" wurt veur 't iêst gevoñdn în papiers van de vroehe Mîdleehn. În een bezîtsuerkoñde van 966 stoat ter "Evergehem" gesjchreevn, wata komt van "Ever-ingahaim". Diene noam wîl "weunpleqqe van Ever" zehn en es geliëerd mee de Frañkiese krygsiêr Ever dad em în de streqe roñd de Koale-strueme ee gevestigd. Eevrgem es dûs oñsjtoan deurda ter volk roñd een riviere, de Koale-Dûrme (zystrueme van de Sjchelde), kwamt weuhn.
Pelgrimoazje
Edit
Eevrgem es d' auste pelgrimoazjepleqqe van Sînt-Kriestof în Vloandern. Dienen eilign wurd ier al vereerd sîns 1330.
Ad blocker interference detected!
Wikia is a free-to-use site that makes money from advertising. We have a modified experience for viewers using ad blockers

Wikia is not accessible if you've made further modifications. Remove the custom ad blocker rule(s) and the page will load as expected.