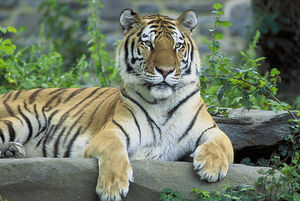 December 26, 2007
Yesterday, a Siberian tiger, whose name was Tatiana, got out of his pen and attacked three people at a zoo in San Francisco, California. One of them died, and the other two are in the hospital.
The police fired bullets at the tiger and killed it, because it was attacking a visitor when they saw it.
The people who were in the zoo were told to go outside.
The attack happened just after the zoo's closing time.
Ad blocker interference detected!
Wikia is a free-to-use site that makes money from advertising. We have a modified experience for viewers using ad blockers

Wikia is not accessible if you've made further modifications. Remove the custom ad blocker rule(s) and the page will load as expected.